Authentic US Navy Bells and Commercial Ship Bells
The bells pictured below almost certainly rang 8 bells at some point or another. You can be sure that the bell you purchase from THE Ship in a Bottle is of the highest quality and accurately represented in photographs and descriptions. Each of my authentic US Navy bells come with a premium custom made bell rope.
US Navy Bells
New Bells just in...!
We will be receiving additional bells that have yet to be photographed and added to our site.
We Buy and Sell Authentic US Navy bells
Looking to sell your bell on Consignment?
Call us on our toll free number, 855.CPO.NAVY(855.276.6289) to discuss the consignment of your bell.
In short, here is how it works... We agree on a sale price... We photograph and describe your bell... we then list your bell on our website. Of course there are some details to cover so call for additional information.
We are always looking for new and authentic bells to add to our inventory.
---
US Navy Bells Available for Sale
| | |
| --- | --- |
| BELL-027 | |
| This WW-1 Era MILSPEC bell with mounting arm has a beautiful bronze with some green patina and wonderful tonal quality. The bell and arm have typical casting imperfections but they are in pretty good condition otherwise (no cracks). Minor paint markings in a few locations on the bell and arm. Bell will be sold as is or it can be professionally polished and lacquered. The bell has the original acorn nut, clapper, and mounting arm. Bell rope is pretty old and worn, possibly WW-2 era and is included. The bell will also be sold with one of our custom bell ropes and stainless steel shackle | |
| | |
| | |
| | |
---
Miniature bell and stand. This beautiful combination is perfectly suited for presentation and will be sold with a brass plate engraved as desired (up to 50 characters free). The perfect retirement gift or keepsake.

The bell is 3-1/2" wide and 4" tall and has nice tonal quality for a small bell. Miniature bell rope is a work of art in itself and comes with the assembly.

Stand is solid oak with mahogany stain and satin urethane finish. Ornamental rope work is made with our premium lanyard cord in khaki color. Stand dimensions: width 11" x depth 7" x height 8". Marlinspike can be adorned with a wide variety of badges/insignia, only some of which are shown in the photos below.

$300






BELL-0026


Add Insignia (please call for quote 855-CPONAVY855-276-6289

---
Recently Sold
---
NO LONGER AVAILABLE


Bell 025

Ship's bell from USS Cimarron (AO-22).& This WW2 ship had an intense and remarkable history spanning three wars. The bell is 22 inches wide by 21 inches high and weighs 360 pounds. USS Cimarron participated in numerous significant battles in the Pacific such as Coral Sea, Midway, Solomon Islands, and Guadalcanal just to name a few. USS Cimarron was awarded 10 Battle Stars for WW2, 7 Battle Stars for the Korean War, and 4 Campaign Stars for Vietnam Service.
---
---
SOLD


BELL-022

Large Nickel Plated
Navy Bell

Approximately 75 Pounds

This beautiful nickel plated brass navy bell is large and heavy. 15 Inches in diameter and weighs in the vicinity of 75 pounds. This wonderful bell belonged to the USS Nautilus, the world's first operational nuclear powered submarine.
There are a couple small dings in the top of the bell but the nickel plating is intact and unbroken. It is in good condition for a bell of its age.
WW-1/WW-2 Era Bells


SOLD


BELL-023 and BELL-024


The Navy Bells pictured above are undergoing restoration. The bell on the top left of the photo has been polished and lacquered and is ready for sale (shown completed in the photo on the right). The bell with the blue stripes and lettering is still in the refinishing shop where the blue paint and existing lacquer will be removed before final polishing. Both bells are available for sale and are in good condition. These MIL-SPEC bells weigh approximately 23 pounds and are 9-7/8 inches in diameter.
The bell in the upper left (photo to the left) is shown completed above. This ancient warrior is in very good shape for a bell of its age.
Commercial Bell
SOLD


BELL-C006

This very nice bell was reported to have been on a fishing vessel. The bell weighs 10 pounds, is 12 inches in diameter and will polish up very nicely.
---
SOLD
A fine example of an authentic navy bell of the WW-I era. The bell is in exceptionally good condition. Marring seen on photograph is in the lacquered finish and not on the bell itself. There are some scratches on the acorn nut where someone used a tool to remove it.

This veteran is 9-7/8 inches across by 10-1/2 inches tall and weighs
approximately 22 pounds.  I am listing this bell as shown for the moment but intend to build a stand for it. Additional photos are available on request.

---
SOLD

Quarterdeck Bell
7" Diameter. This beautifully patinated bell was reported to have come from a WW-II navy vessel although this cannot be verified. At any rate, it is a very nice bell that will certainly be a grand addition to any display. Comes complete with custom bell rope and clapper/mounting hardware shown. Call 855.CPO.NAVY/855.276.6289 for your quote.
---
| | | |
| --- | --- | --- |
| | SOLD | 9-1/4 Inch Quarterdeck Bell in very good condition. Bell with hardware weighs 19 pounds. This is a well preserved bell that will clean up nicely. Heavy brass mounting arm with finial and clapper. Call 855.CPO.NAVY/855.276.6289 for your quote |
---
SOLD

WW-II Ship Bell

This is a very well preserved bell with distinct lettering PC-1130. The bell measures 9-7/8" at the opening and with clapper weighs about 20 pounds. It has the original clapper and nut. Named bells of this type are becoming increasingly rare. USS PC-1130 was a WW-II Submarine Chaser of the PC-461 Class. Launched 10 DEC 1942 and commissioned 19 JUN 1943. Afterwards, she was transferred to France (Intrepide) and later to South Vietnam (Van Kiep). Please call our toll free number 855.CPO.NAVY/855.276.6289 for a quote.
---
SOLD
US Navy Bell
"Team Trident" VP-26

This remarkably well maintained US Navy bell is in exceptionally good condition and clearly shows the "Team Trident" motto and Logo from VP-26. It measures 12 inches across the base and weighs 36 pounds. A large and heavy bell that will certainly be a centerpiece in its new home. It was cast for the Navy by the Bellingham Bell Company and is serialized #1909. Call 855.CPO.NAVY/855.276.6289 for your quote.
---
| | | | |
| --- | --- | --- | --- |
| | SOLD | | This is a 9-3/4 inch Loeffler bell complete with mounting arm. It is in excellent condition. Weighing 20 pounds, the bell is made to MIL-B-674C specifications for the navy. The Loeffler Corporation has made bells since the 1950s at its location in Penndel, PA. It has supplied U.S. Navy, U.S. Coast Guard, and domestic shipyards with silicon bronze bells since 1950. Meets USCG approval. An excellent addition to any collection or for ship/boat use. This is believed to be from a navy vessel of the Vietnam era or earlier but that cannot be verified. There is some very minor scratching on this but it will shine up nicely. The shoe bracket for the mounting arm is fabricated from steel, painted black, and designed to bolt into a bulkhead. The arm, like the bell, is in excellent condition. Call 855.CPO.NAVY/855.276.6289 for your quote. |
---
| | | |
| --- | --- | --- |
| | SOLD | This large navy bell is in very good condition. It is reported to have come from a base in the Asian Pacific. The bell alone, not including the clapper and finial weighs 50 pounds and is 14 inches wide. It will be sold with or without the KOA wood base. Call 855.CPO.NAVY/855.276.6289 for your quote. |
---
WW-I Era Fore Deck Bell. New photos will be added when work is complete.

SOLD

BELL-0009



Comes complete with original clapper, mounting arm, slide bracket cap nut, and one of our custom bell ropes.
Although the history of this beautiful bell may never be known, it is certain to have tolled in the defense of our country. Ring patterns and lettering on this very rare bell indicate casting prior to late 1920s with estimates are circa 1910. This authentic US navy bell will polish up beautifully and is in very good condition with only minor scratches and some pitting as may be typical for the age of the bell. Rings around the top and bottom of the bases of the bell are very prominent. This veteran is 9-7/8 inches across by 10-1/2 inches tall and weigh approximately 22 pounds.
---
WW-I Era US Navy Fore Deck Bell
Authentic WW-I Era Fore Deck Bell with original Clapper and Hardware.



SOLD



BELL-0012




Another beautiful example of a WW-I era US Navy Fore Deck Bell in good condition with only minor pitting and scratches as may be typical for bells of this era. These bells are becoming increasingly rare.
---
WWII Cast Iron Bell - Harvard Lock Company


WW-II Era Cast Iron Bell
Harvard Lock Company

BELL-0010



SOLD




Comes complete with original clapper and one of our custom bell ropes.
This classic bell is in very good condition and has been very well preserved. Cast in iron with raised lettering U.S.N. and Harvard Lock Company. Bells during this period of WW-II were cast in iron as a result of an emergency order from Washington limiting the use of bronze and brass to actual combat essentials. It weighs approximately 18 pounds and is 10 inches tall by 9-1/2 inches across. See the video below for this beautiful bell and listen as it rings 8 bells!
---
---
Huge Brass Bell with Mounting Hardware.
Very Large Brass Bell
16 Inches in Diameter. Complete with Clapper, Mounting Hardware, and Rope. Weighs approximately 90 LBS.



SOLD



BELL-0011



The Bell weighs a whopping 90 pounds (approximate) and is 14.25 inches tall by 16 inches wide.
Fore Deck Bell
WWI and WWII Pearl Harbor Defender
USS Chew (DD-106)

SOLD
WW-I Era Fore Deck Bell
Vessel association unknown.



SOLD

WW-II Era Fore Deck Bell
Vessel association unknown



SOLD

WW-II Era Cast Iron US Navy Bell
Harvard Lock Company



SOLD



Cast Brass Bell from Commercial Fishing Vessel
British Isles



SOLD

WWII Bell - USS Absacon (AVP-23), 1943-1949





SOLD

Loeffler Bronze Ships Bell





SOLD
Return Policy:
If you are not totally satisfied with your bell purchase you may return it for a full refund, if undamaged, within seven days of receipt. Returns must be in the original condition and packaging. All Returns must be insured for the full purchase value. Refunds for shipping and insurance paid on the initial purchase cannot be given and return shipping is at the cost of the buyer. Please contact us within (7) days by email first to obtain return authorization.
---
Now this is a bell !!!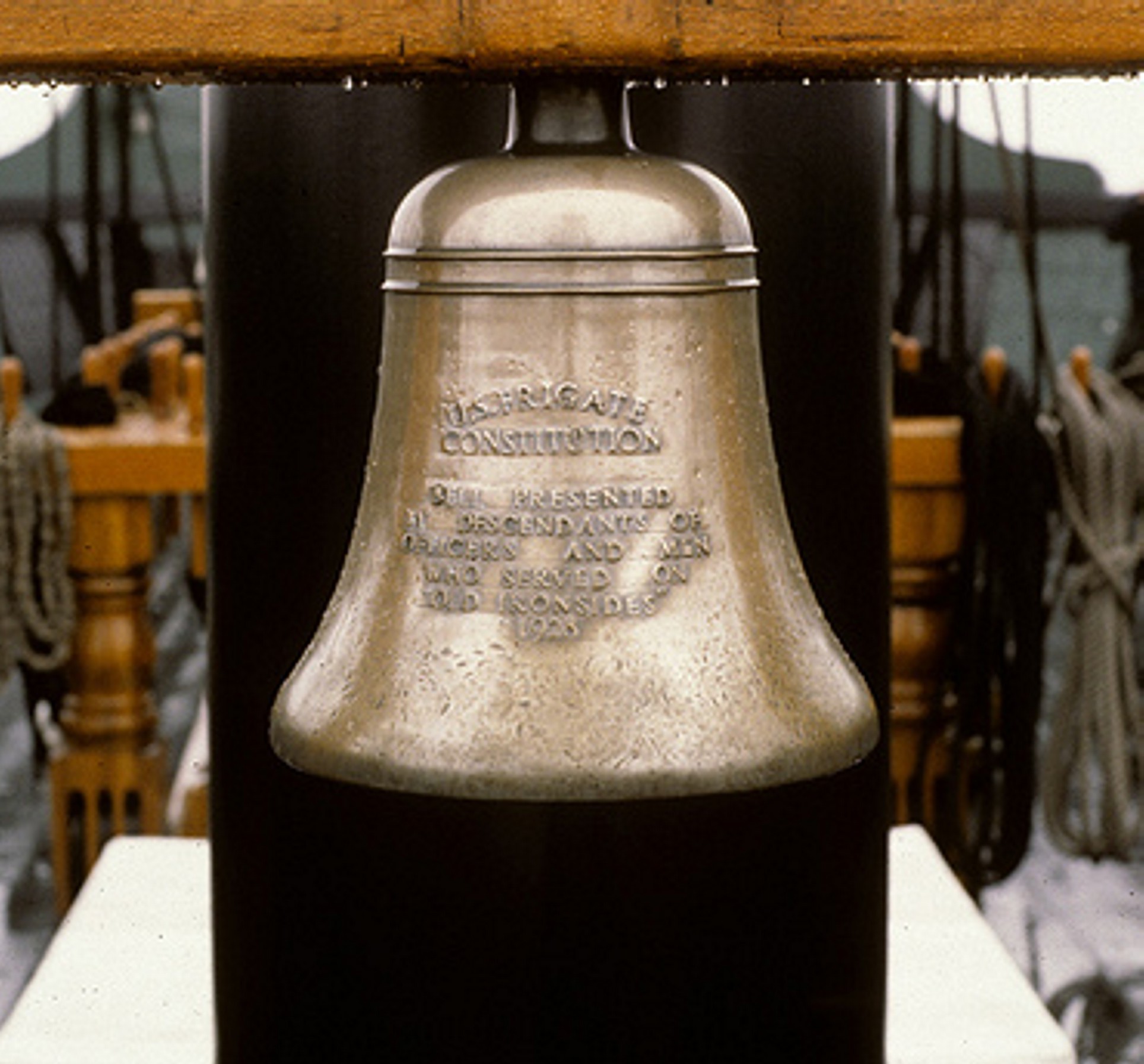 Ship's Bell - USS Constitution
The following information is the courtesy of:
DEPARTMENT OF THE NAVY -- NAVAL HISTORICAL CENTER
805 KIDDER BREESE SE -- WASHINGTON NAVY YARD
WASHINGTON DC 20374-5060
Disposition and continuing Navy use

In addition to its shipboard roles, the bell serves a ceremonial and memorial function after the ship has served its Navy career.

U.S. Navy bells are part of the many artifacts removed from decommissioned vessels preserved by the Naval Historical Center. They may be provided on loan to new namesake ships; naval commands with an historical mission or functional connection; and to museums and other institutions that are interpreting specific historical themes and displays of naval history. Bells remain the permanent property of the US Government and the Department of the Navy. These serve to inspire and to remind our naval forces and personnel of their honor, courage, and commitment to the defense of our nation.
Maintenance and upkeep

Traditionally, the bell is maintained by the ship's cook, while the ship's whistle is maintained by the ship's bugler.

In actual practice, the bell is maintained by a person of the ship's division charged with the upkeep of that part of the ship where the bell is located. In such a case a deck seaman or quartermaster striker or signalman striker may have the bell-shining duty.


The bell's connection to religious origins continues. Originating in the British Royal Navy, it is a custom to baptize a child under the ship's bell; sometimes the bell is used as a christening bowl, filled with water for the ceremony. Once the baptism is completed, the child's name may be inscribed inside the bell. The bell remains with the ship while in service and with the Department of the Navy after decommissioning. In this way, an invisible tie is created between the country, the ship and its citizens.
Navy Ceremonies and Events
The bell is used to signal the presence of important persons. When the ship's captain, a flag officer, or other important person arrives or departs, watch standers make an announcement to the ship and ring the bell. This tradition extends to major naval command transitions, often held aboard vessels associated with the command.


The sounding of a ship's bell found a natural application as a warning signal to other vessels in poor visibility and fog. In 1676 one Henry Teonage serving as a chaplain in the British Mediterranean Fleet recorded , "so great a fog that we were fain to ring our bells, beat drums, and fire muskets often to keep us from falling foul one upon another". Ringing a ship's bell in fog became customary. In 1858, British Naval Regulations made it mandatory in that function. Today, maritime law requires all ships to carry an efficient bell.

American ships of the Revolutionary War period and our early national years adopted many of the practices and traditions of the British Royal Navy, including the use of bells. In 1798, Paul Revere cast a bell weighing 242 pounds for the frigate Constitution, also known today by its nickname "Old Ironsides".

It is of interest to note that the use of a ship's bell contributed to the richest single prize captured by the American Navy during the War of Independence. While a Continental Squadron under Commodore Whipple lay-to, wrapped in Newfoundland fog in a July morning in 1779, the sound of ships' bells and an occasional signal gun could be heard a short distance off. When the fog lifted the Americans discovered that they had fallen in with the richly-laden enemy Jamaica Fleet. Ten ships were captured as prizes, which - together with their cargo - were valued at more than a million dollars.
Timekeeping

Before the advent of the chronometer time at sea was measured by the trickle of sand through a half - hour glass. One of the ship's boys had the duty of watching the glass and turning it when the sand had run out. When he turned the glass, he struck the bell as a signal that he had performed this vital function. From this ringing of the bell as the glass was turned evolved the tradition of striking the bell once at the end of the first half hour of a four hour watch, twice after the first hour, etc., until eight bells marked the end of the four hour watch. The process was repeated for the succeeding watches. This age-old practice of sounding the bell on the hour and half hour has its place in the nuclear and missile oriented United States Navy at the dawn of the Twenty-First Century, regulating daily routine, just as it did on our historic vessels under sail in the late Eighteenth Century.