Authentic US Navy Boatswain Pipes and Lanyards
Our Bosun's Pipes are authentic pipes used by the US Navy. Not the replicas you typically see for a much cheaper price.
Enjoy Owning Authentic Merchandise!!
855-CPONAVY/855-276-6289


Item Description: US Navy Boatswain's Pipe PIPE-0001
$31.95
---
Ready to Wear Boatswain's Lanyards
Each lanyard custom made to ensure you have a proper fit. Our lanyards are constructed to meet the requirements of US Navy Uniform Regulations. Please specify your height and physical build/frame size when ordering to assist in the construction of your lanyard.
The following is an excerpt from the uniform regulations that addresses proper wear of the lanyard:
5404. BOATSWAIN'S PIPE AND LANYARD. The boatswain's pipe and lanyard may be worn around the neck while carrying out official ceremonial duties and military watches. The lanyard is braided with Belfast cord in a traditional style and sennit. When hanging free, the bottom of the pipe shall not fall below the top of the belt. Wear white lanyards with dark/blue uniforms and black lanyards with white uniforms. Men place the pipe in the left breast pocket when not in use. Women wearing Service Dress Blue place the boatswain's pipe attached to the lanyard between the top and second button of their jacket when not in use. Do not wear them on liberty.
Item: LNYD-0002

$49.95

9-Strand Working Lanyard

Our 9 Strand lanyard is perfectly suited for wear with working or dress uniforms. Available in either black, white, or call us for custom colors.


Item: LNYD-0001

$69.95

13 Strand Dress Lanyard

Available in either black or white. Please call us for custom colors.

Item: LNYD-0003

$99.95

17 Strand Premium Lanyard

Available in your choice of black or white. Please call us for custom colors.


Item: LNYD-0004



$149.95





Premier Fender Hitch Lanyard



This intricate lanyard is made of a fine grade tightly braided nylon line and includes beautiful fender hitching at the neck join and star knots as well as Turk's Head knots in the construction. Available in custom lengths and colors.


Item: LNYD-0005





9, 13, or 17 Strand Khaki Colored Lanyard



This specialty lanyard can be purchased in any of the styles shown on this page by selecting the appropriate lanyard from the dropdown menu. Only the 9 strand lanyard is shown pictured.

In accordance with existing navy uniform regulations, this lanyard is not authorized for wear unless proscribed by the Commanding Officer.


Item: FID-0001
$15.00

The Swedish Fid is perhaps the most indespensible tool in my entire arsenal for marlinspike work.

Traditional fids are heavy and awkward for lightweight projects and this Fid is the perfect tool for your marlinspike project

The stainless steel fid is grooved to allow slipping the line through any opening created by the fid, an ingenious idea. The Fid is capped with a 7-strand Turk's head knot.





Make your own Lanyard and other marlinspike projects

.

This is the premium cord I use for all of my lanyards, specialty marlinspike, and many of the more intricate bell ropes tht require a lot of detail.

It is available in 100 or 1000 yard rolls in two different sizes and colors: Black/White 1.7mm and 2.2mm

When constructing my lanyards I typically use the 2.2mm cord for the main body and the 1.7mm cord for the Turk's Head Knots. My 17 strand lanyards are constructed entirely with the 1.7mm.



BUY CORD SAMPLE

$3.50
Includes small samples of black/white 1.7 and 2.2mm cords



Item Description: 1.7mm Premium Lanyard Cord - Availabile in White or Black and 100 or 1000 YD Rolls


Item Description: 2.2mm Premium Lanyard Cord - Availabile in White or Black and 100 or 546 YD Rolls


These Turks Head badges are the perfect ornamentation for your presentation, shadowbox, or wall plaque. They can be purchased with or without insignia. If you would like to add insignia to any of the badges, please call me for a quote as insignia prices vary from $3.50 to $24 each. Prices reflect knots only without the insignia.


New Service - ENGRAVING!
Now you can have your new and authentic US Navy Bosun's Call engraved with up to two lines of personal engraving. We are an authorized reseller of Vanguard Military Products. Vanguard engraves their own pipes with an exceptionally neat laser etch. Order yours today!
---
Photo of the Month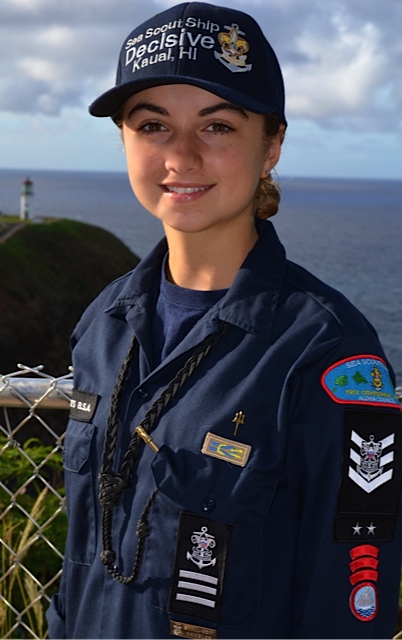 Stephanie, with Sea Scout Ship Decisive, Kauai, HI proudly shows off her new Bosun's Lanyard. Looking sharp Stephanie...!!
Product of the Century...!!
---
Complete with the Ship in a Bottle of your choice.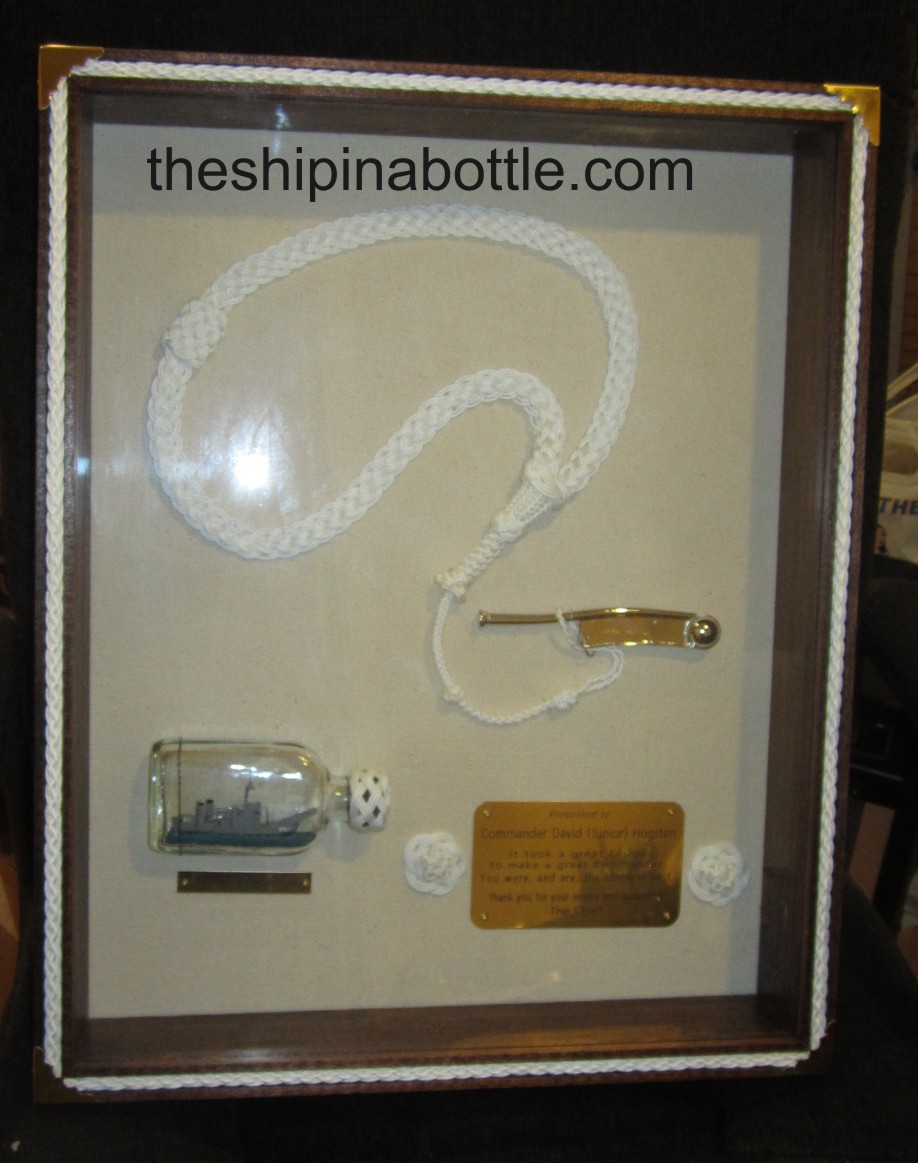 $999.95
Choose the navy vessel you would like to place in the bottle. Sticks and strings models such as USS Constitution are much more complex and additional charges may apply.
The presentation comes in a special case with brass corners, marlinspike work, brass plate, free engravng, our best Boatswain's Lanyard with Pipe, and your ship in bottle. Custom stain/wood selections may be available on request.
$999.95
---
Our Pipe and Lanyard in nautical display case.
Solid Hardwood Case
Lexan Polycarbonate Face
Ornamental Rope Work on Frame
Navy Blue Velvet Backing in Case
Available with Choice of Pipe and Lanyard Combo or PIPE-0001 Only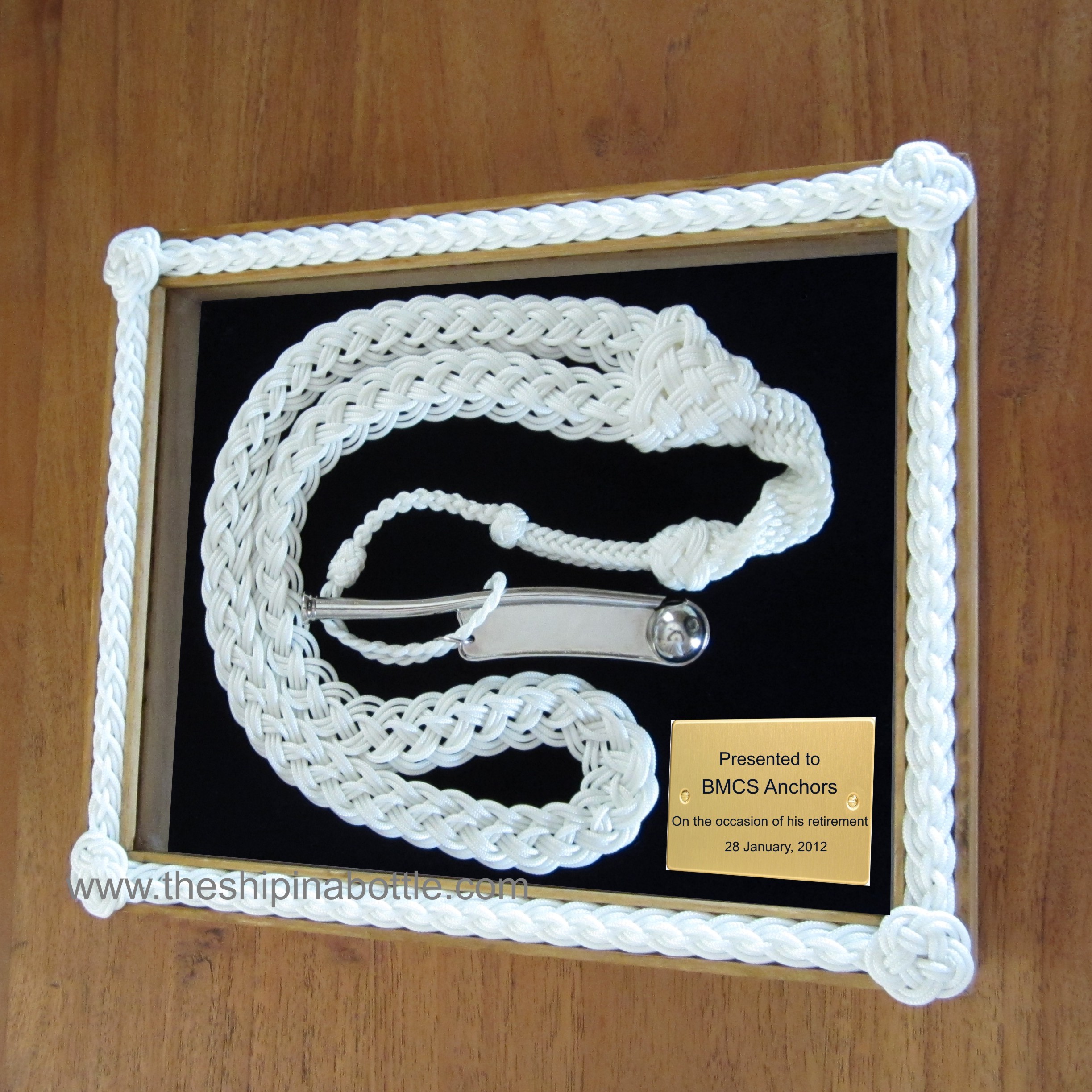 Pictured here with Lanyard CMBO-0001 - Also available with CMBO-0002, CMBO-0003 or with Pipe alone.
Our Authentic US Navy Boatswain's Pipes are Guaranteed new in package.
Authentic US Navy uniform item! There are absolutely no used, defective, or replica insignia/uniform items sold by THE Ship in a Bottle. Shop with the confidence that you are getting authentic merchandise at affordable prices.

What is the Bosun's Pipe or Boatswain's Call?  For starters, the Boatswain, or Bosun, is in charge of the deck crew.  The Bosun's Pipe, sometimes referred to as a Boatswain's whistle, is infamously known for its shrill sound, which can be heard over the noise of high winds and heavy seas and is used for signaling the crew.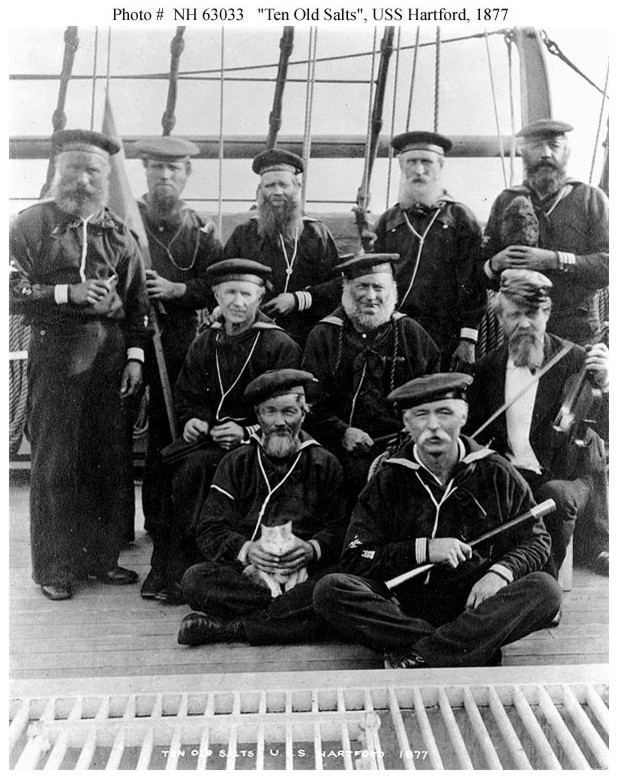 ---
---
The Captain and her Boatswain, Royal Mantecoran Navy. Note the ornamental lanyard he is sporting.