Authentic US Navy Boatswain Pipes and Lanyards
Our Bosun's Pipes are authentic pipes used by the US Navy. Not the replicas you typically see for a much cheaper price.
Enjoy Owning Authentic Merchandise!!

Item Description: US Navy Boatswain's Pipe PIPE-0001
$29.95
---
Each lanyard custom made to ensure you have a proper fit. Our lanyards are constructed to meet the requirements of US Navy Uniform Regulations. Please specify your height and physical build/frame size when ordering to assist in the construction of your lanyard.
The following is an excerpt from the uniform regulations that addresses proper wear of the lanyard:
5404. BOATSWAIN'S PIPE AND LANYARD. The boatswain's pipe and lanyard may be worn around the neck while carrying out official ceremonial duties and military watches. The lanyard is braided with Belfast cord in a traditional style and sennit. When hanging free, the bottom of the pipe shall not fall below the top of the belt. Wear white lanyards with dark/blue uniforms and black lanyards with white uniforms. Men place the pipe in the left breast pocket when not in use. Women wearing Service Dress Blue place the boatswain's pipe attached to the lanyard between the top and second button of their jacket when not in use. Do not wear them on liberty.
Want to Make Your Own Lanyard?


Item Description:
1.7mm Premium Lanyard Cord - Availabile in White or Black and 100 or 1000 YD Rolls




Our Premium Lanyard Cord is available in bright white or colorfast black and comes in 1.7mm and 2.2mm sizes.

1.7 mm Cord may be purchased in 100 yard or 1000 yard rolls to suit your construction needs. 2.2mm Cord may be purchased in 100 yard or 546 yard rolls.

This very tightly braided cord is perfect for making lanyards and other marlinspike projects. The black cord is slightly thicker than the white, probably due to the dying process.

Need a sample? Cord samples can be purchased below for $1.50 to cover the cost of packaging materials and shipping. Sample includes 1 each of 1.7mm and 2.2mm in both black and white.

BUY CORD SAMPLE

$3.50

Have a Special Marlinspike Project in Mind?





Item Description:
2.2mm Premium Lanyard Cord -
Availabile in White or Black and 100 or 546 YD Rolls


---
Check Out Our Newest Boatswain's Lanyard!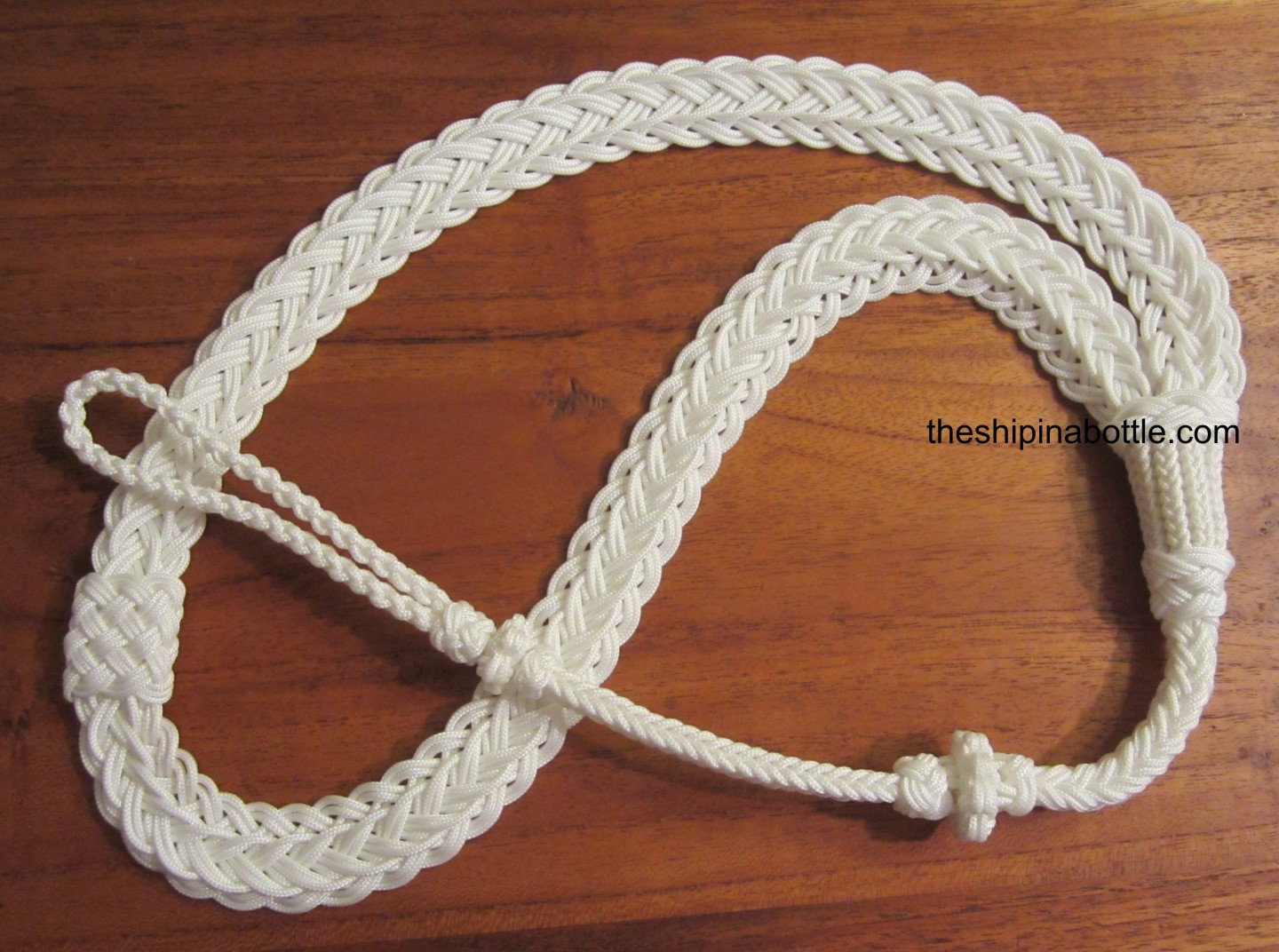 Introducing our new lanyard for 2015. This intricate lanyard is made of a fine grade tightly braided nylon line and includes beautiful fender hitching at the neck join and star knots as well as Turk's Head knots in the construction. Available in custom lengths and colors.
---
Product of the Month
Our Pipe and Lanyard in nautical display case.
Solid Hardwood Case
Lexan Polycarbonate Face
Ornamental Rope Work on Frame
Navy Blue Velvet Backing in Case
Available with Choice of Pipe and Lanyard Combo or PIPE-0001 Only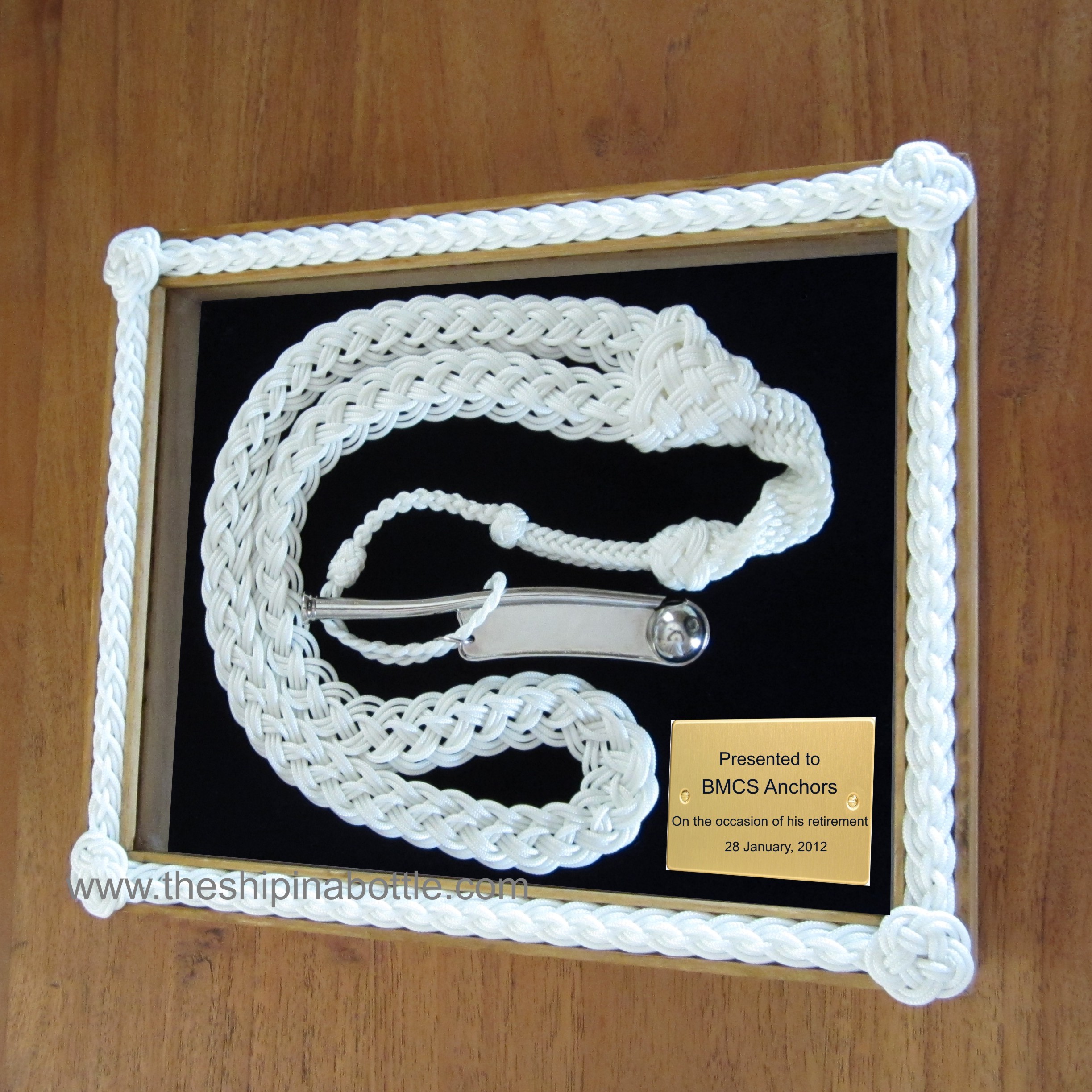 Pictured here with Lanyard CMBO-0001 - Also available with CMBO-0002, CMBO-0003 or with Pipe alone.
Our Authentic US Navy Boatswain's Pipes are Guaranteed new in package.
Authentic US Navy uniform item! There are absolutely no used, defective, or replica insignia/uniform items sold by THE Ship in a Bottle. Shop with the confidence that you are getting authentic merchandise at affordable prices.

What is the Bosun's Pipe or Boatswain's Call?  For starters, the Boatswain, or Bosun, is in charge of the deck crew.  The Bosun's Pipe, sometimes referred to as a Boatswain's whistle, is infamously known for its shrill sound, which can be heard over the noise of high winds and heavy seas and is used for signaling the crew.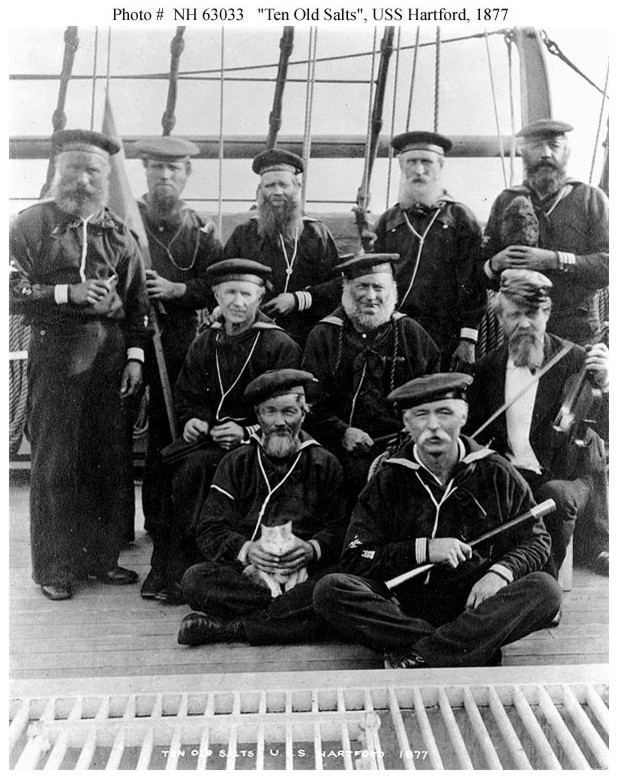 ---
The Captain and her Boatswain, Royal Mantecoran Navy. Note the ornamental lanyard he is sporting.
---
Pipe and Lanyard Combo - $85.95
Question: Who is Dennis Mauzy?
Answer: A retired Master Chief Bosn's mate and very close friend of mine. We shared many trials and tribulations.