Visit us in Booth 105 at the Savannah Boat Show 1-3 March 2013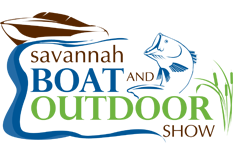 The Atlanta Boat Show was an overall success for us although signs of the sluggish economy were reflected in our sales numbers. It was a big learning experience for our team and we will certainly be back for another go at this big event next year.
But for now, our focus shifts to the Savannah Boat Show March 1st through the 3rd at the Savannah International Trade and Convention Center, Savannah, GA where we will showcase our premier hammocks made with durable CORDURA® fabrics and custom rope work.
Please stop by and say hello to us in Booth 105. We look forward to seeing you there!
Atlanta Boat Show 2013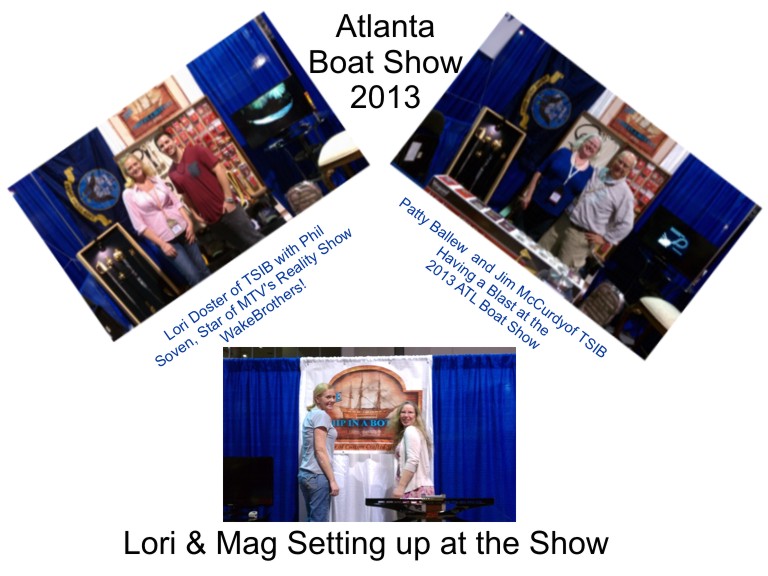 We are Proud to Announce our New TOLL FREE Number (855) CPO-NAVY / (855) 276-6289
We just turned up our new Toll Free number (855) CPO-Navy and are very proud of our new number ... and ... it just keeps getting better...!
NOW ACCEPTING ALL MAJOR CREDIT CARDS!!
We are now able to accept all major credit cards over the phone..!! Once we finalize the new look of our web site, we will also be accepting major credit cards for online orders placed on our secure web site!
Layaway - Now Available for orders of $100 or more.
Details of the Plan:
A $10 non-refundable service fee plus 10% Down Payment is required when placing your layaway order. Layaway orders must be placed by phone only and Layaway plan is only available for purchases $100 and above and do not include price for shipping, taxes if applicable, and fees. Once your phone order has been received, you will be sent a PayPal invoice for the purchased items to reflect the fees and down payment. You may make payments against your balance in any amount via PayPal until the balance has been paid. Merchandise will not be shipped until balance due has been paid in full. All merchandise must be paid in full by 31 December, 2012 and if you would like to receive your merchandise prior to Christmas, balance should be paid prior to 13 December in order to avoid shipping delays during the heavy volume of the holiday season. Your purchase prices will remain fixed during your period of layaway however, if a sale price should be introduced, you will qualify for the price reduction of the sale for items already on layaway. If balance due is not fully paid by 31 December, 2012, or your layaway is canceled by you, the items will be returned to inventory and a $10.00 fee plus a 10% restocking fee will be charged prior to issuing your PayPal refund. If you have any questions regarding this layaway policy, please feel free to call us at (404) 964-8355 and we can assist you.
CNO Announces CPO Cutlass now Authorized for wear!

The New CPO Cutlass is now Available and can be Purchased Here!
From now until December 31st, our cutlasses have been priced to meet or beat Navy Exchange Uniform Prices!! Now Only $449.00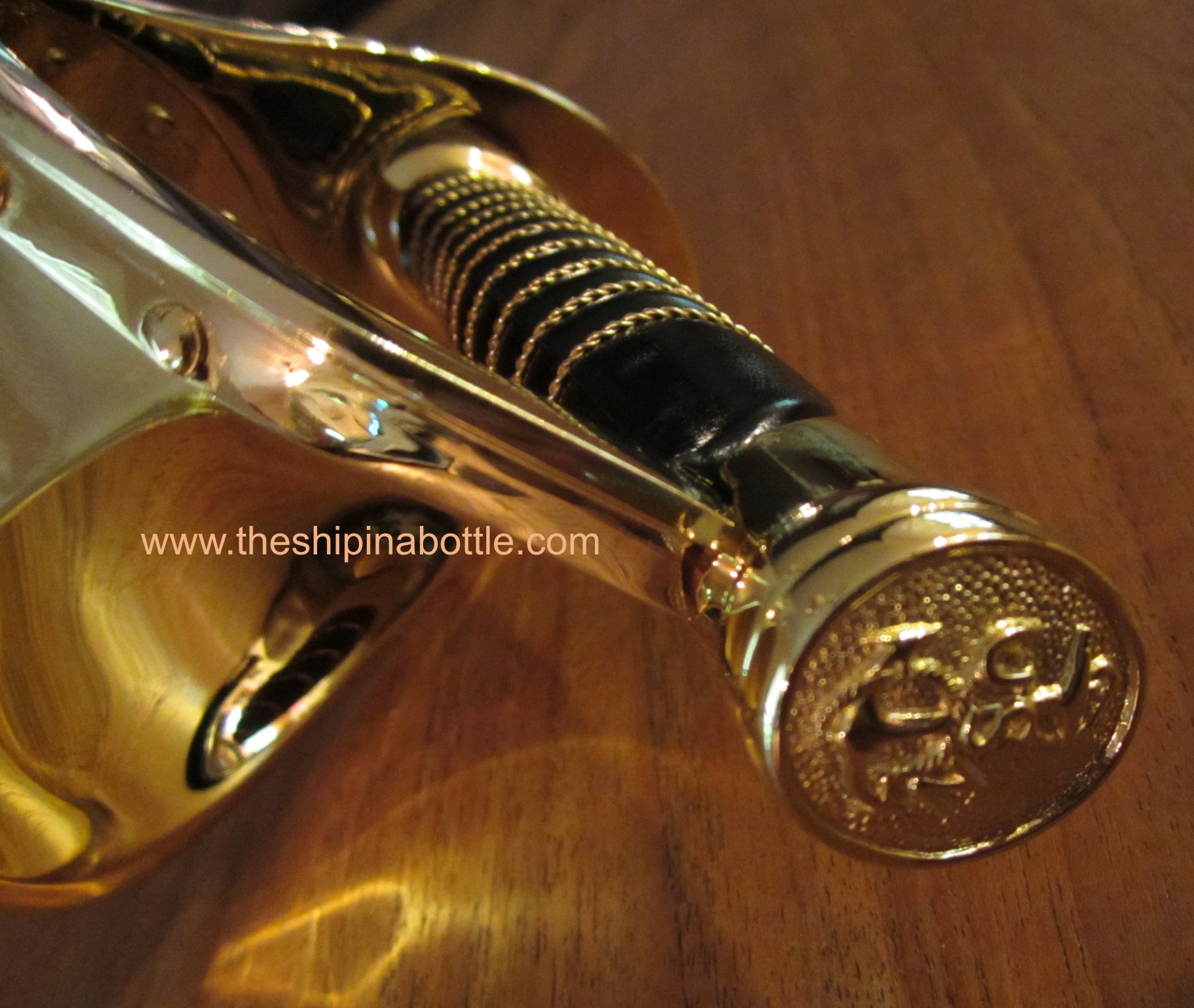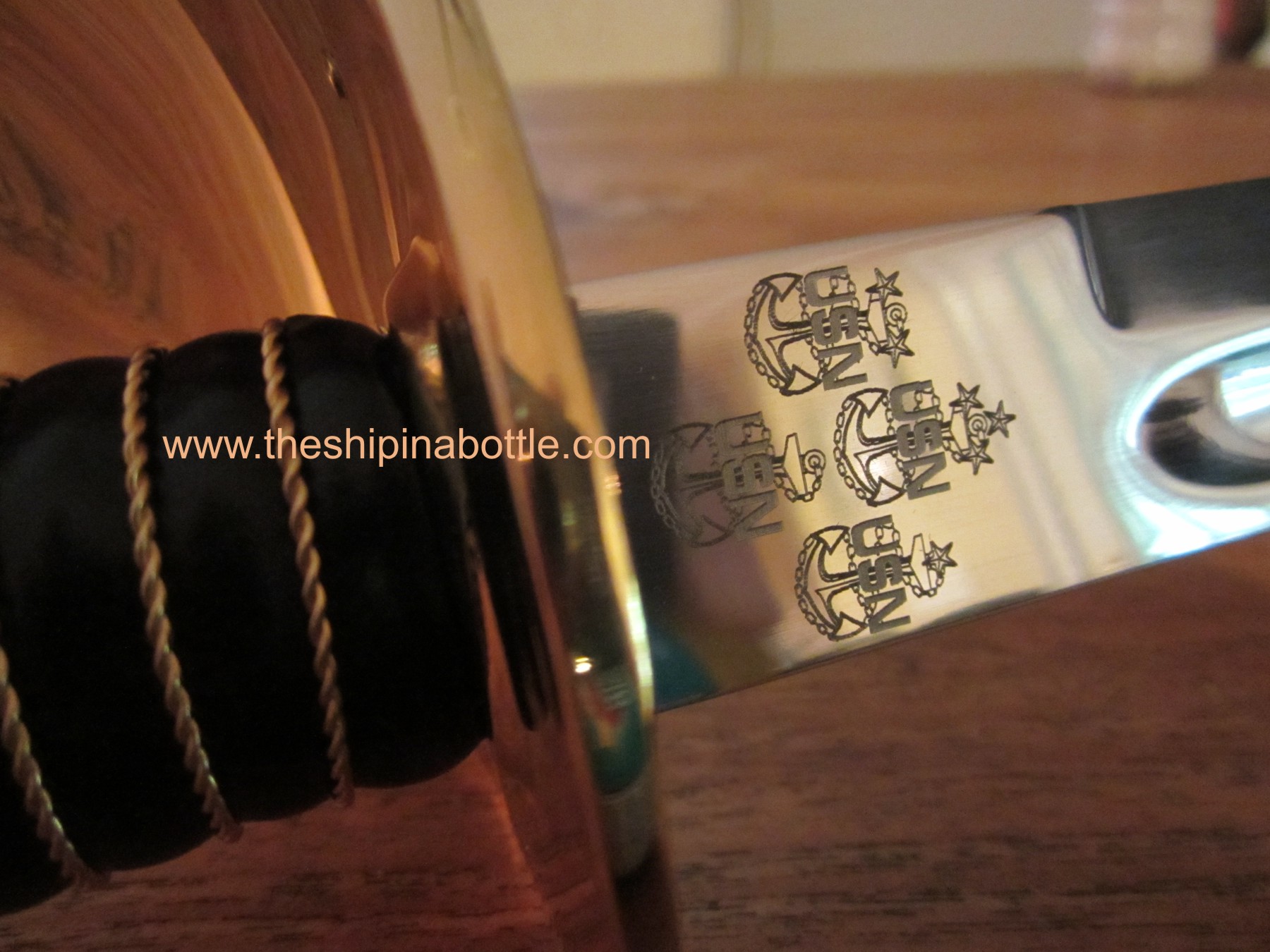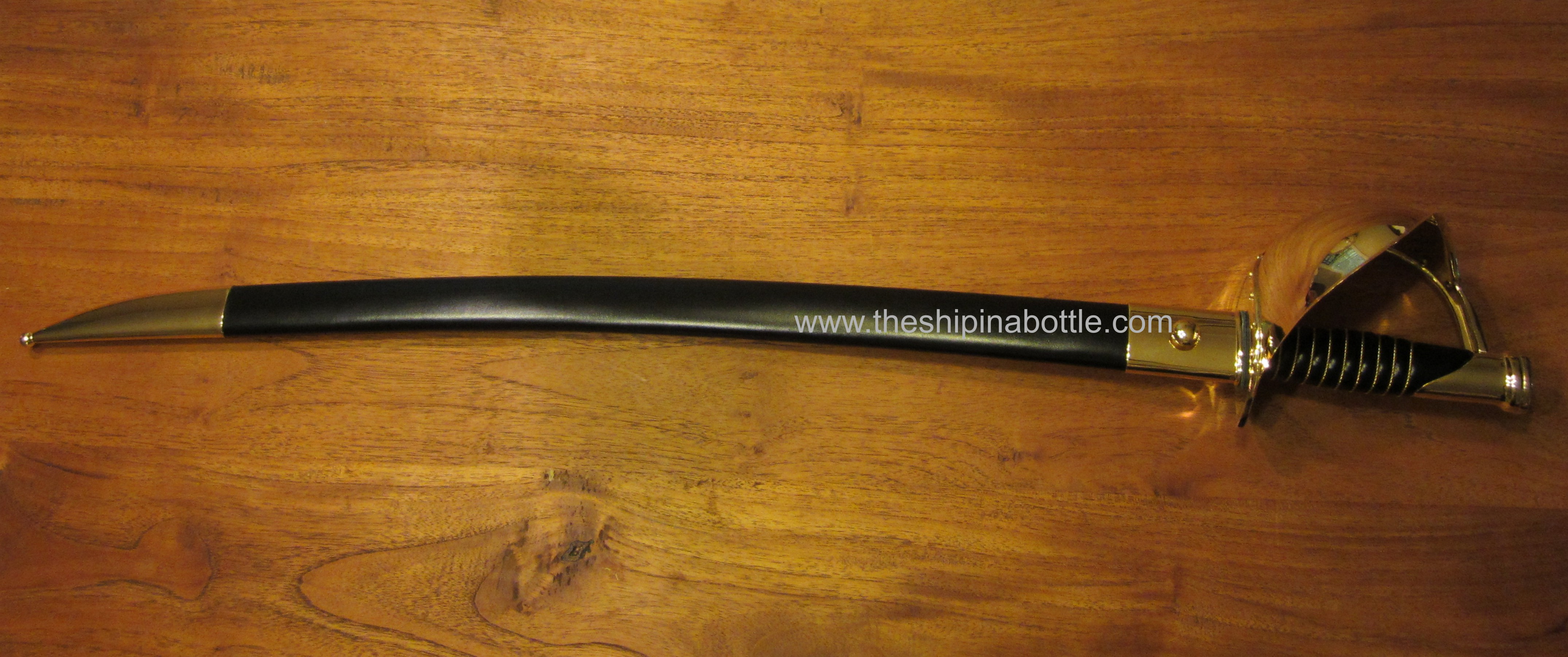 The long anticipated return of the CPO cutlass to our navy CPO uniform is here! The new cutlass contains laser engraved CPO, SCPO, MCPO and MCPON anchors on the base of the blade near the hand guard. Authorized cutlasses must display these engravings if they are to be worn with the US Navy CPO uniform.
Made with Toledo steel, known since 500 BC for its superior quality was adopted by the Roman legions and royalty throughout the years.
Toledo swords, for centuries, when the issue of a fight depended not only on the personal ability of the fighter, but also on another decisive factor - the perfection of his weapon - with Toledo swords exceptional steel were forged the most terrible arms in the world. Their extraordinary hardness made of each of these Toledo swords an invincible force in the hands of an expert swordsman. All European armies knew the superior quality of Toledo steel swords and many great warriors relied only on sabers of Toledan provenance.

Their origin of the Toledo swords comes from the most ancient Spanish customs. More than 2,000 years ago, in the 5th century B.C. , Iberian blacksmiths already forged Toledo swords known as falcata which had an iron blade inside and a special design made to increase the bluntness of the slash.

Due to their fame, these Toledo swords were choosen by Hannibal for his army and the Roman legions, defeated by those weapons, adopted them later and supplied their centurions with the dread Toledan swords blades.
Authentic US Navy Bell and Miscellaneous Bell Expansion
Watch closely over the next couple weeks for some very exciting additions to our bell offering. We are in the process of cleaning up some very beautiful bells that will certainly be the envy of any collection.
Top Stories
For more than 30 years, CORDURA® fabrics have been selected by makers of high performance gear and apparel where durability counts. It began in 1977 with the launch of CORDURA® brand fabric made with 1000-denier air-jet textured nylon 6,6 yarns— a remarkably durable, yet practical fabric. Just a year later, JanSport® chose CORDURA® fabrics for their new line of daypacks, giving the CORDURA® brand fabric line instant credibility. The rest, as they say, is history. Today, you'll find CORDURA® fabrics in many top brands that are known for making tough, long-lasting products. In fact, CORDURA® fabrics are trusted by many militaries around the globe. Over the years, the CORDURA® brand team has introduced a wide-range of versatile fabrics. From the classic air-jet textured nylons to ultra-lightweight high tenacity nylon and polyester fabrics, all of our fabrics are considered best-in-class for durability and performance. The future for INVISTA's CORDURA® brand looks brighter than ever as it continues to expand into new categories, which is no surprise. After all, engineering innovative fabrics is woven deeply into the CORDURA® brand DNA.

OUTDOOR RETAILER SUMMER MARKET
The OR Summer Market was a very big success for us in several areas and, we are ramping up for the competition. Our Toggle Rope may give us the edge!!
The Outdoor Retailer Summer Market was the world's largest outdoor sports industry gathering in the world, bringing retailers and media together with over 1000 brands in the business of producing and selling the active outdoor lifestyle. Our special thanks to the entire CORDURA® team for their generosity and support (pictured below in the colorful shirts!!).
---
New Product Introduction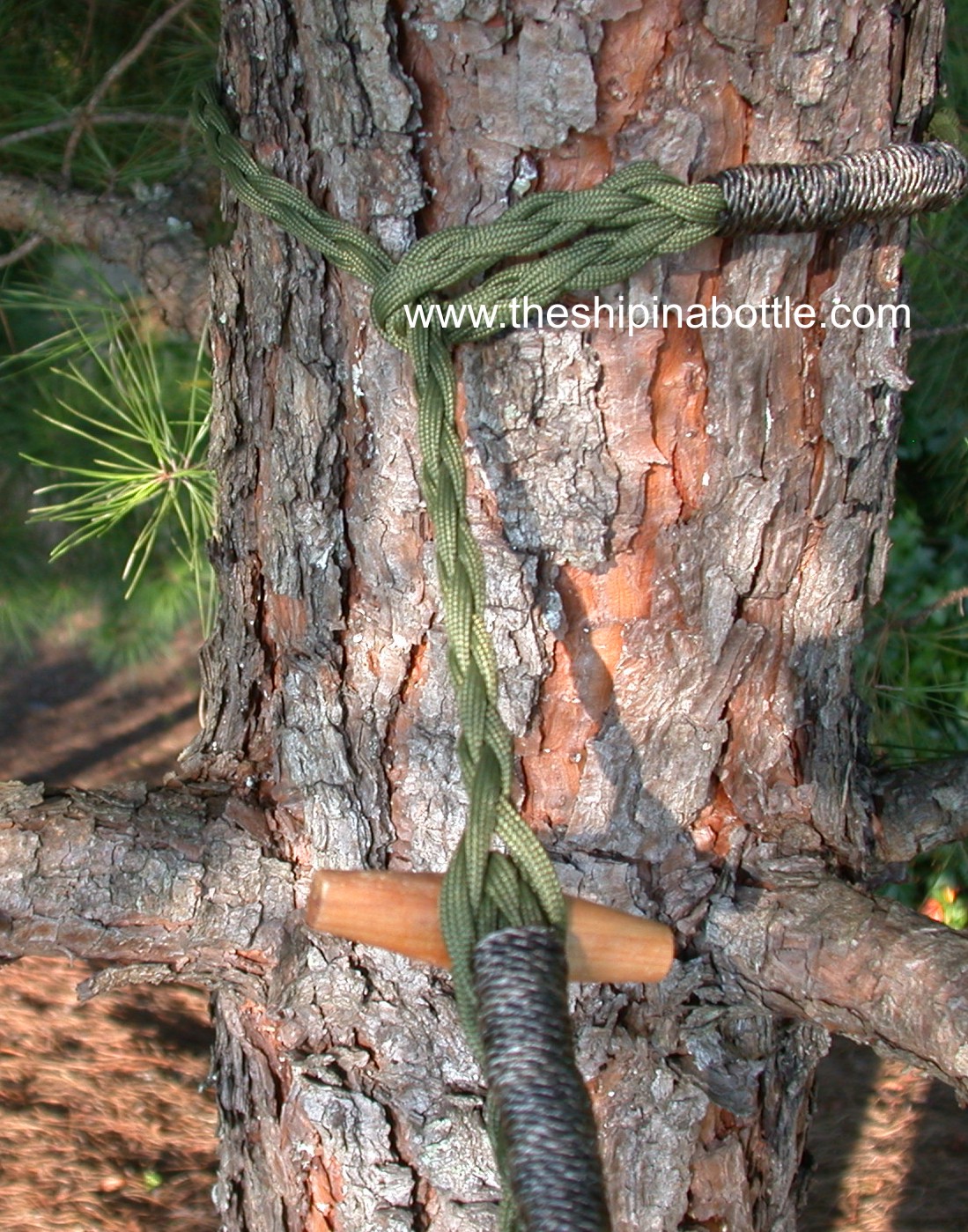 Shown above is our own creation and new addition to our growing inventory - Introducing the TOGGLE ROPE into the hammock industry.
It is no small secret that our web site and business is based on navy tradition and features items with a nautical theme.
Toggle ropes have been around for centuries in nautical applications so the idea itself is not new. What is unique about our toggle ropes is that they are made with 550 Para cord, braided into a rope that technically, provides a breaking strength far greater than 1000 pounds, and do not require an ability to tie knots in order to use them!
Realizing that some knots can be very difficult to tie or untie and that not everyone has mastered the art of tying them, we went to work. With the goal of developing a Toggle Rope for practical use with hammocks and camping/outdoor use in general, we came up with what we feel is the perfect design.
Our simple to use Toggle Rope has a loop at one end with a toggle at the other. To sling a hammock, simply wrap the end of the rope with the eye around a tree - pass the toggle end through the eye and draw it tight. Then pass the toggle through the eye of the hammock and pass the toggle back through itself at a point along the rope. Simple, incredibly strong, and reliable.
Our Toggle ropes come complete with our "Commodore" and "Ensign" hammocks and are also sold separately as a set for only $29.95.
Ship Model Club
I am looking for interested ship model builders who would like to help 'lay the keel' in starting a new ship model club in Northeast GA.
Our yet to be named club will focus on promoting the spectacular art of ship model building. It is not necessary to be a master model builder in order to join and those at any level of skill are welcome to participate. My personal interests are scratch-built wooden ship models. Particularly war ships in the 1750-1812 era.
My thoughts for an agenda are to begin meetings with a round robin 'show and tell' to give members an opportunity to share information and to show off individual projects. This could be followed by a 'how-to' topic presented by a guest at each meeting.
Please let me know if you are interested in helping to launch the new club or possibly becoming a founding member.
CORDURA® is a registered trademark of INVISTA for durable fabrics.